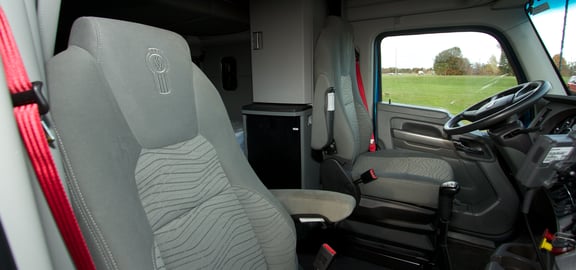 Before you take your first job as a professional truck driver know what division is right for you. Most driving jobs are one of the following: over the road (longhaul), regional (shorthaul) and local.
OTR (longhaul)
Those in the longhaul division, or OTR, usually are over the road for 10 - 12 days at a time. This is perfect for the individual who is ready to see the country and may have a sense of wanderlust.
Be prepared. Over the road is not just a job, it is a lifestyle.
Regional (shorthaul)
Regional jobs are probably one of the most common. If you drive in the shorthaul division, you can expect to be home every weekend, but don't always expect that. Ask the recruiter immediately what the company's home time is.
Many times, those who drive regionally are home late Thursday or Friday during the day. That may cause them to go back on the road Sunday.
Local
Home every night? Where do I sign up? Driving local may seem like having your cake and eating it too, but it may not always be.
Local drivers may not be in a typical truck. Those jobs may be driving a dumpster truck, delivering food or man more.
While you might be home every night, your day may also be longer. Expect a possible 10+ hour day. Much more than a 9 - 5 job.
Another thing to note is that unlike OTR and regional driving jobs, the majority of the time a local driver is on regular streets.
Whatever division you decide is best, make sure the company you are interested in has openings and is the right fit for you.