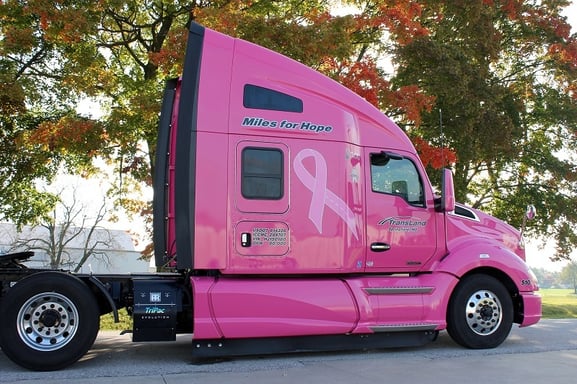 When you join a trucking company, you hope to join a community. That is what will happen when you join TransLand.
In 2012, we debuted our Pink "Miles for Hope" Truck. For every mile the Pink Truck drives, the company donates $0.05 to local cancer organizations. We are currently partnered with our friends at the Breast Cancer Foundation of the Ozarks. Since 2012, TransLand has donated more than $32,000.
However, the Pink Truck does more than just drive. It also makes apperances at community events just like it will this weekend (May 6 and 7) at Artsfest. Read below for an exclusive Q&A with The Hurricanes drummer, Brandon Moore and #FindThePinkTruck this weekend on historic Walnut Street.
---
The 37th edition of Artsfest features 79 performances across five stages, including a bolstered live music lineup in the Transland Kentwood Green. The stage will feature some of the region's best music across genres, including rock-centric Mood Ring Circus, local favorite The Hurricanes, bass phenom Shaun Munday, and indie stars Someone Still Loves You Boris Yeltsin. Munday and SSLYBY are both playing during extended hours.
Springfield-based rock band The Hurricanes features a powerful on-stage lineup of songwriters (Dallas Jones, Barak Hill) and names from bands you likely know (Jody Bilyeu of Big Smith, Brandon Moore of Barefoot Revolution, and Mike Henderson: Lily Bee and The Pollinators, Hook Knives). Drummer Brandon Moore says he can't believe the bill of Artsfest performers, especially in the line of live music. "Looking at the list the other day of all the stages, it's freaking awesome. I couldn't believe it," he says.
How long have you been going to Artsfest?
Brandon Moore: Every year for, I don't know … way before (my daughter) was born, and she's 12.
What keeps you coming back to Artsfest?
Moore: Music. And the artists I hadn't seen the year before. And the live art, I love the live art.
What should people expect from The Hurricanes at a set like this?
Moore: We are going to mid-tempo rock faces off. That's what we do: hard and heavy mid-tempo rock. We'll play a lot of originals with a few choice covers in there.
What's the atmosphere like in rehearsal and behind the scenes?Moore: Awesome. Everybody's a pro, nobody's late, nobody brings baggage, I love it. It's like a dream band.
The party continues after you guys get off stage with Shaun Munday and Someone Still Loves You Boris Yeltsin …
Moore: Someone Still Loves You Boris Yeltsin, I just love that band and all the guys who have been in it over the years. I love seeing them live, looking forward to their set.
Performance Schedule TransLand stage
Saturday, May 6
10:00am — Brother Ray and the Sometimes Righteous
11:00am — Symphony Ree
Noon — Devlin Pierce and the Song
1:00 pm — Vic Vaughan & Souled Out
2:00pm — Mood Ring Circus
3:00pm — Blue Room Comedy Presents: Jorge Machean & Jaron Myers
3:30pm — Hudson Freeman
4:30pm — The Hurricanes
5:45pm — Shaun Munday
6:45pm — Someone Still Loves You Boris Yeltsin
Sunday, May 7
10:00am — Kindred Rose
11:00am — Hometown Tourist
Noon — Breaking Silence
1:00pm — Greene County Social Club
2:00pm — Trak Masta Tom
2:30pm — Vultures of Chaos County
3:30pm — Blue Room Comedy Local Showcase
4:00pm — Primitive Physick